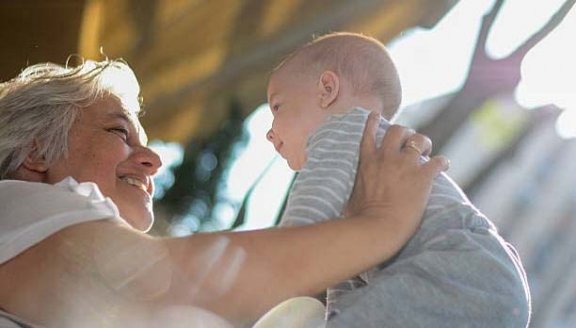 You are a loving trusted adult
There are many things you can do for your grandchild as a trusted adult.
Learn about the importance of how direct positive interactions with both spoken and written words in those first months and years helps a baby's brain to grow stronger. Read the Three Key Years book. Know how much value your grandchild will receive from the right interactions.
Explore our Parent Toolkit for additional tips and resources for both you and your grandchild's parents.
Share what you learn about strengthening the baby's brain with your son or son-in-law, and your daughter or daughter-in-law. Help them all to discover and know how talking, reading and singing with their baby is helping their baby's brain to make millions of neuron connections that build a strong brain for life.
When you're with your grand babies, make your own opportunities to directly Talk. Read. Play. Count. or Sing. with them.
Encourage parents and other family members to do the same. Every positive interaction with trusted adults in the days, weeks and months after a baby is born helps them to build a stronger brain and a sense of being emotionally safe and secure.
In the first months and years of life, every interaction between a baby and a trusted adult builds stronger connections in the baby's brain. Simply talking has great power to build connections. Talking alone to a baby builds millions of neuron connections and most people do not know how effective direct and focused talking can be to strengthen the brain of a child.
Reading is also extremely effective as both a brain building tool and an emotional security experience.   Reading can both build stronger brains and reading can create a sense of security in the child that is anchored in the actual reading process. Spend time doing both talking and reading to your grandchild when that is possible—and encourage your son or daughter to do the same things as often as they can do them to help your grandchild be healthier, happier, and a more effective and successful lifelong learner.