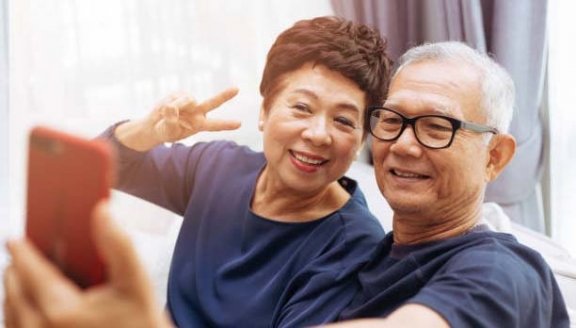 If you live further away
Distance doesn't have to be an obstacle. There are many ways for GP's to stay in regular contact with their grandchildren and to provide support for their adult children.
One of the most precious gifts you can give, whether you're near or far, is the gift of a book as often as possible.
Reading is one of the most POWERFUL means you have to help your grandchild build millions of neuron connections early on. Those incredibly vital connections will help to create a stronger brain for life. Reading is one of the most fundamental opportunities to stimulate those neuron connections and giving your grandchildren books for you, or your adult children, to read to them and with them is a monumental blessing.
Technology can help bridge the distance gap.
For babies and younger children, it can be a challenge to create deep connections via a phone call only. The boom in technology advances over the years provides new ways to have more intimate contact with your family when you cannot be there in person often enough. It can be fun to explore new ways to connect with your grandchildren.
If you have a smartphone, tablet or computer, here are a few resources to explore that can help bridge the distance gap in a fun and interactive way.
The greatest gift of all is sharing what you learn with your grandchildren's parents.
Even though you may not be able to chat face to face, or spend time directly, on a regular basis with your grandbaby, you can help your adult children by sharing this site with them and encouraging them to learn more about the new brain science that will help give their babies a head start on strong brain development.